Nouhad Wadi Haddad (
نهاد حداد‎) (born November 21, 1935), known as Fairuz (
فيروز‎, also spelled Fairouz or Fayrouz, meaning "Turquoise" in Arabic) is a
Lebanese
singer who is among the most widely admired and deeply respected living singers in the
Arab world
.
Her songs are constantly heard throughout the region, and still spark Lebanese national pride

Nouhad Haddad was born on 21 November 1935 in Lebanon into a Syriac Orthodox family of Southeastern Syrian descent, and later converted to Greek Orthodox Christianity. The family later moved into a home in cobblestone alley called 'Zuqaq el Blatt' in Beirut. Living in a single room of a typical Lebanese stone house facing Beirut's Greek Orthodox Patriarchate school, they shared a kitchen with the neighbours. Her father Wadīʿ was from Mardin and of the Syriac Orthodox faith, and worked as a typesetter in a print shop. Lisa, her mother, stayed home and took care of her four children, Nouhad, Youssef, Hoda and Amal.
Nouhad was a shy child and did not have many friends at school. However, she was very attached to her grandmother who lived in Debbieh (Shuf area), where Nouhad used to spend her summer holidays. Nouhad seemed to enjoy the rural village life. During the day, Nouhad would help her grandmother with house chores and fetch fresh water from a nearby water spring. She would sing all the way to the spring and back. In the evening, Nouhad would sit by the candlelight with her grandmother, who would tell her stories.
By the age of ten, Nouhad was already known at school for her unusual singing voice. She would sing regularly during school shows and on holidays. This was how she came to the attention of Mohammed Fleyfel, a well known musician and a teacher at the Lebanese Conservatory, who happened to attend one of the school's shows in February 1950. Impressed by her voice and performance, he advised her to enroll in the conservatory, which she did. At first, Nouhad's conservative father was reluctant to send her to the conservatory; however, he eventually allowed her to go on condition that her brother accompany her. That having been said, Nouhad's family as a whole encouraged her in her musical career.

Mohammed Fleyfel took a close interest in Nouhad's talent. Among other things, he taught her to recite verses from the Koran (in the Recitative style known as Tajweed). On one occasion, Nouhad was heard singing by Halim el Roumi, head of the Lebanese Radio Station and a prominent musician in his own right (also the father of the famous Lebanese singer Majida Roumi). Roumi was impressed by her voice and noticed that it had a rare flexibility that allowed her to sing both Arabic and Western modes admirably. At Nouhad's request, El Roumi appointed her as a chorus singer at the radio station in Beirut and went on to compose several songs for her. He chose for her the stage name Fairuz, which is the Arabic word for turquoise.
A short while later, Fairuz was introduced to the Rahbani brothers, Assi and Mansour, who also worked at the radio station as musicians.,and they discovered her talent, The chemistry was instant, and soon after, Assi started to compose songs for Fairouz, one of which was 'Itab (the third song he composed for her), which was an immediate smash hit in all of the Arab world, establishing Fairuz as one of the most prominent Arab singers on the Arabic music scene. Assi and Fairuz were married on 23 January 1955.

Fairuz and Assi had four children: Ziad, a musician and a composer, Layal (died in 1987 of a brain stroke), Hali (paralysed since early childhood after meningitis) and Rima, a photographer and film director.

Fairuz's first large-scale concert was in 1957, as part of the Baalbeck International Festival which took place under the patronage of the Lebanese President Camille Chamoun. She performed alongside the British prima ballerina Beryl Goldwyn and the Ballet Rambert. Fairuz was paid one Lebanese pound for that show. Musical operettas and concerts followed for many years, eventually establishing Fairuz as one of the most popular singers in Lebanon and throughout the Arab world.

In 1971, Fairuz's fame became international after her major North American tour, which was received with much excitement by the Arab-American and American community and yielded very positive reviews of the concerts.

On September 22, 1972, Assi suffered a brain hemorrhage and was rushed to the hospital. Fans crowded outside the hospital praying for him and lighting candles. After three surgeries, Assi's brain hemorrhage was halted. Ziad Rahbani, the eldest son of Fairuz and Assi, at age 16, gave his mother the music of one of his unreleased songs "Akhadou el Helween" (that he had composed to be sung by Marwan Mahfouz in "Sahriyyi" Ziad's first play) and his uncle Mansour Rahbani re-wrote new lyrics for it to be called "Saalouni n'Nass" (The People Asked Me) which talked about Fayrouz being on stage for the first time without Assi. Three months after suffering the hemorrhage, Assi attended the premiere performance of that musical "Al Mahatta" in Piccadilly Theatre on Hamra Street. Elias Rahbani, Assi's younger brother, took over the orchestration and musical arrangement for the performance.
Within a year, Assi had returned to composing and writing with his brother. They continued to produce musicals, which became increasingly political in nature. After the Lebanese Civil War erupted, the brothers continued to use political satire and sharp criticism in their plays. In 1977, their musical "Petra" was shown in both the Muslim western and Christian eastern portions of Beirut.

In 1978, the trio toured Europe and the Persian Gulf nations, including a concert at the Paris Olympia. As a result of this busy schedule, Assi's medical and mental health began to deteriorate. Fairuz and the brothers agreed to end their professional and personal relationship in 1979. Fairuz began to work with a production team helmed by her son, Ziad Rahbani, and Assi and Mansour composed for other artists such as Ronza.

During the Lebanese Civil War (1975–1990), Fairuz never left Lebanon to live abroad and did not hold any concerts there with the exception of the stage performance of the operetta "Petra", which was performed in both the Western and Eastern parts of the then-divided Beirut in 1978. However, during that time period, Fairuz held many very successful and record-breaking concerts and tours in numerous countries around the world.

She made her first European TV appearance on French TV on May 24, 1975, in a "Carpentier special show" called "Numero 1" dedicated to French star Mireille Mathieu. She sang one of her big hits "Habbaytak Bissayf" and was thanked and embraced after performing it by Mireille Mathieu.
After the artistic divorce between Fairouz and the Rahbani Brothers in 1979, Fairuz carried on with her son, composer Ziad Rahbani, his friend the lyricist Joseph Harb, and composer Philemon Wehbe.


Fairuz made a second and final European Television appearance on French TV on 13 October 1988 in a show called Du côté de chez Fred. Fairuz, who had scheduled a concert at the POPB of Paris Bercy concert hall three days later on 16 October, was the main guest of French TV presenter Frédéric Mitterrand, today France's Minister of Culture (2009). The program features footage of her rehearsals for her concert at Bercy in addition to the ceremony featuring then French Minister of Culture Jack Lang awarding Fairuz the medal of "Commandeur des Arts et des Lettres". It also includes a video montage of her previous movies and concerts. In that show, Fairuz also sang the three songs "Ya hourrié", "Yara" and "Zaali tawwal".

In the 1990s, Fairuz produced six albums (two Philemon Wehbe tributes with unreleased tracks included, a Zaki Nassif album, three Ziad Rahbani albums, and a tribute album to Assi Rahbani orchestrated by Ziad) and held a number of large-scale concerts, most notably the historic concert held at Beirut's Martyr's Square in September 1994 to launch the rebirth of the downtown district that was ravaged by the civil war. She appeared at the Baalbeck International Festival in 1998 after 25 years of self-imposed absence where she performed the highlights of three very successful plays that were presented in the 1960s and 1970s.

She also performed a concert in Las Vegas at the MGM Grand Arena in 1999 which was attended by over 16,000 spectators, mostly Arabs. Ever since, Fairuz has held sold out concerts at the Beiteddine International Festival (Lebanon) from 2000 to 2003, Kuwait (2001), Paris (2002), the United States (2003), Amman (2004), Montreal(2005), Dubai, Abu Dhabi, Baalbeck, BIEL (2006), Athens, Amman (2007) Damascus, and Bahrain (2008).

Fairuz now works exclusively with her composer son Ziad. Her first album in the new millennium "Wala Keef", was released in 2002.
Her 2008 performance in Damascus caused considerable controversy in Lebanon, given the tense relationship between Lebanon and Syria. Several members of parliament publicly asked her to cancel the concert. She went to Syria where she was received by a crowd of 7000 fans, screaming her name at the borders, as her car passed into Syrian grounds. Mosques and prayers on radio were all held back as Fairouz's songs played day and night through almost every media outlet in the Syrian nation. Radio channels, TV channels, the Syrian satellite broadcasters, restaurants and cafes, and newspapers were all focused on Fairuz's legendary return after 20 years absence. However big the controversy was, it seems it has not affected her popularity in Lebanon as she held the Orthodox Good Friday Prayer Mass in West Beirut as hundreds and hundreds crowded the church premises.


Fairuz's new album entitled "Eh... Fi Amal" was released on 7 October 2010, produced by Fairuz productions and written entirely by Ziad Rahbani. Two concerts took place at BIEL Center in Beirut, Lebanon on 7th and 8 October. Fairouz's last appearance in Beirut was in December 2006 during the re-make of the play "Sah El Nom" by the Rahbani brothers. Later a concert in Bahrain was cancelled in March 2011. She performed in Netherlands for the first time in Amsterdam on 26 June 2011.

Fairuz has performed in many countries around the globe including Syria, Jordan, Iraq, Kuwait, United Arab Emirates, Qatar, Bahrain, Egypt, Tunisia, Algeria, Morocco, France, United Kingdom, Switzerland, Netherlands, Greece, Canada, United States, Mexico, Brazil, Argentina, Australia, and her home country Lebanon.

Fairuz has performed in many venues such as the Royal Albert Hall in London in 1962, the New York Carnegie Hall in 1971, the London Palladium in 1978, L'Olympia de Paris in 1979, London'sRoyal Festival Hall in 1986, the Shrine Auditorium in Los Angeles (1971, 1981, and 2003), the John F. Kennedy Center for the Performing Arts in Washington D.C. (1981 and 1987) among many others (for the complete concert chronology, see Fairuz Concerts).

Fairuz has yielded record-breaking performances in almost every concert she has held around the world. Fairuz, Assi, and Mansour have become the most famous and dominant music production phenomenon in the Arab world, and their music has spread beyond the Arab world to Europe, the Americas, and Australia.

Of Fairuz's numerous concerts, few are officially released. They are the Damascus 1960, Olympia 1979 concert (audio and video released in the 1980s), USA tour 1981, Jarash 1983, Royal Festival Hall London 1986, USA tour 1987, Baalbek 1998 (Video), Las Vegas 1999 concert (on DVD with make over and rehearsals), Beiteddine 2000 and Dubai 2001 (on DVD, it includes parts from concerts in 1997 and 2002 as well as rehearsals from 2001 and 2002 concerts, released May 2008). Pirated versions of other concerts exist: Kuwait 1966, Syria and Egypt 1976, Olympia 1979, Australia 1984, Syria 1985, Bahrain 1987, France 1988, Kuwait1989, Cairo 1989, London 1994, Beirut 1994, and parts of the four Beiteddine concerts (2000–2003), Parts of Dubai concerts (1990–2006), Paris 2002, Amman 2004, Canada 2005, parts of the play Sah Ennawm which was performed in Beirut (2006), Athens 2007 and Bahrain 2008. On June 26, 2011 Fairuz performed in the Royal Carre Theater in Amsterdam, Netherlands. On December 2011, Fairuz performed 5 concerts on Platea Theatre in Sahel Alma in Lebanon, on 9, 10, 16, 17 and 23 December, where the theater accommodates for 4,000 person approximately.
Musical plays or operettas were the cornerstone works of the Rahbani Trio, Fairuz, Assi and Mansour. The Rahbani Brothers produced 25 popular musical plays (20 with Fairuz) over a period of more than 30 years. They were possibly the first to produce world-class Arabic musical theatre.

The musicals combined storyline, lyrics and dialogue, musical composition varying widely from Lebanese folkloric and rhythmic modes to classical, westernized, and oriental songs, orchestration, and the voice and acting of Fairuz. She played the lead roles alongside singers/actors Nasri Shamseddine, Wadih El Safi, Antoine Kerbaje, Elie Shouayri (Chouayri), Hoda (Fairuz's younger sister), William Haswani, Raja Badr, Siham Chammas (Shammas), Georgette Sayegh and many others.

The Rahbani plays expressed patriotism, unrequited love and nostalgia for village life, comedy, drama, philosophy, and contemporary politics. The songs performed by Fairuz as part of the plays have become immensely popular among the Lebanese and Arabs around the world.

The Fairuz-Rahbani collaboration produced the following musicals (in chronological order):
Ayyam al Hassad (Days of Harvest – 1957)
Al 'Urs fi l'Qarya (The Wedding in the Village – 1959)
Al Ba'albakiya (The Girl from Baalbek) – 1961)
Jisr el Amar] (Bridge of the Moon – 1962)
Awdet el 'Askar (The Return of the Soldiers – 1962)
Al Layl wal Qandil] (The Night and the Lantern – 1963)
Biyya'el Khawatem (Ring Salesman – 1964)
Ayyam Fakhreddine (The Days of Fakhreddine – 1966)
Hala wal Malik (Hala and the King – 1967)
Ach Chakhs (The Person – 1968–1969)
Jibal Al Sawwan (Sawwan Mountains – 1969)
Ya'ich Ya'ich (Long Live, Long Live – 1970)
Sah Ennawm (Did you sleep well? – 1970–1971 – 2006–2008)
Nass min Wara' (People Made out of Paper – 1971–1972)
Natourit al Mafatih (The Guardian of the Keys – 1972)
Al Mahatta (The Station – 1973)
Loulou – 1974
Mais el Reem (The Deer's Meadow – 1975)
Petra – 1977–1978
Elissa – 1979 (Never performed due to the separation of Fairuz and Assi)
Habayeb Zaman the old friends – 1979 (Never performed due to the separation of Fairuz and Assi)


Most of the musical plays were recorded and video-taped. Eighteen of them have been officially released on audio CD, two on DVD (Mais el Reem and Loulou). A pirated version of Petra and one pirated live version of Mais el Reem in black and white exist. Ayyam al Hassad (Days of Harvest) was never recorded and Al 'Urs fi l'Qarya (The Marriage in the Village) has not yet been released (yet a pirated audio record is available).
Fayrouz فيروز – Raji'oun راجعون


1. Raji'oun
2. Ahtarif El-Houzn Wal Intizar
3. Raji'aat Fil Masa'
4. Ya Jisran Khashabiyan
5. Jisr el-Awda
6. Ya Sahir Al-Aineyn
7. Inda Himaha
8. Ba'dana Man Yaqsud Al-Koroum
9. Baldati Ghabatun Jameela
10. Marraytou Bishawareh'

Fayrouz فيروز - Fayrouz فيروز 1960


1. Behabak Ya Lebnan 6'02"
2. Ghannaito Mecca 14'32"
3. Akher Ayam Elsayyfieh 2'55"
4. Sa'alouni Alnas 3'32"
5. Nassam Alyna Alhawa 4'02"
6. Allah Ma'ek Ya Hawana 4'23"
7. Sakana Ellayl 6'45"
8. Shatty Ya Daneii 2'41"
9. Ya Mayelah AlGhouson 3'08"
10. Khatat Adamkon 4'00"
Fairuz فيروز - Damascus Festival 1960 فيروز مهرجانات معرض دمشق الدولي
01
SAALINI
02
MOUWAL INTA WOU ANA
03
YA HNAYINA
04
FI LINA YA HOB
05
ALOULI KOUN
06
WOU AADIT EL HELWEH
07
LAMA BADA YATASANNA
08
LAMLAMTOU ZOUKRA LIKAA AL AMS
09
WILDAWALI DAWALINA
10
JADAKA AL GHAYSU
11
AM BITDAWI AL SHAMS
12
SHATTI YA DINI
13
YA RAYT
14
YA AMAR ANA WIYAK
15
DAKET ALA SADRI
16
YA TERA TIRI
17
BKOUKHNA YA IBNI
18
NIHNA WIL AMA
19
MESHWAR
20
SAHRITNA
HERE
Fairuz فيروز - Ishar اسهار
01. Isahr
02. Khayef A'oul Elli Fi Albi
03. Ya Garit El-Wadi
04. Sakan Al-Leyel
05. Habbaytek Wu Shouq In'al
06. Dakhilek Ya Oummi
07. Daq Al-Hawa Ala Al-Bab
08. Fayiq Wala Nassi
HERE
Fairuz فيروز - Good Friday Eastern Sacred Songs ترانيم الجمعة الحزينة
01 Anal Oum Ek-Hazim
02 Torok Ourashaleem
03 Y Achabi Ou Sabbi
04 Kamat Mariyam
05 Wa Habibi
06 El Youm Ollika
07 Ya Yassouh El Hayat Nouazimak
08 Kamel El Ajyale
09 Estaneret
10 El Massih Kaam

HERE
Fayrouz فيروز – Al-Baalbakia
01. Rahil
02. Baalbak: Ana Sham'a Ala Drajek
03. Rahou
04. Raqsa Min Jadid
05. Al-Natour
06. Ya Zarif El-Toul
07. Kam Banafsaj
08. Karm Al-'Alali
09. Shatti Ya Ha'le
10. Laweyn Rayheen
11. TLAL Al-Zira'iyyeen
12. Midhwiyyi
HERE
Fayrouz فيروز –
In Sentimental Mood
A1 Bektob Ismak Ya Habibi
A2 Alou El-Eda
A3 La Teatab Alayi
A4 Shal
A5 Yara
A6 Behebak Ma Baref
B1 Ya Natour El Amriye
B2 Ali Ashamayel
B3 Ba'Touflak Bass
B4 Marjouha
B5 Tebka Mayel
B6 Meshwar
Fayrouz فيروز – The Golden Songs الاغاني الذهبية
01. Sanarjou Ya'ouman
02. Ams 'intahaina
03. Teb'a Mayel
04. Latat'ab Alayi
05. Habibi Baddoul Amar
06. Ya Tayr
07. Lamlamtou zikra
08. I'dla'aya Aroussa
09. Shayef el Bahr shou Kbir
10. Amara Ya Amara
11. Zouri Zouri
12. Dar'ajil Ward
13. Inda Himaha
14. Habbou Badoun
15. Min Ezz Ennawm
16. Fairouz - Yedour Eddouri
17. Q'alaya Bayitan
18. Kenna Netla'a
19. Imani Sate'
Fayrouz فيروز – Andaloussiyat اندلسيات
1.Arja'i Ya Alf Laila
2.Ballegh ho Ya Kamarou
3.Law Kan Qalbi Ma'i
4.Ya Man Hawa
5.Ja'at Mo'adhibati
6.Qad Ataka Ya'tazir
7.Law Ta'alamina
8.Arja'i Ya Alf Layla
9.La Tasa'aluni
10.Ya Shadil Alhan
11.Ya Khalilayya
12.Ya Waheed El-Ghid
13.Hajabuha
14.Ya Ghusna Naka
15.Jadak El-Ghaythou
16.Ya Laylou El-Sa'bbou
17.Lamlamtou Zikra
Fayrouz فيروز – Damascus Festival معرض دمشق الدولي
01 – Khuzni Beaynayk (12:38)

قصيدة : خذني بعينيك
02 – Koltelha (01:24)
أغنية : قلتلها
03 – Wakefly (02:08)
أغنية : وقفلي
04 – Sketch Mereh (03:21)
اسكتش : مرح
05 – Katabna ou Ma Katabna (04:52)
أغنية : كتبنا وما كتبنا
06 – Barda Barda (03:38)
أغنية : بردى بردى
07 – Ya Mal Esham (02:13)
أغنية : يامال الشام
08 – Al Lala Oul Lala (02:50)
أغنية : عاللالا
09 – Souk El Hamediyye (02:18)
أغنية : سوق الحميدية
10 – Ya Leyl Essab (03:12)
موشح : ياليل الصب
11 – Sketch El Beyah (03:53)
اسكتش : البياع
12 – Telly Ou Henne Al Oushak (03:56)
أغنية : طلّي وحنّي عالعاشق
13 – El Aan Ou Leyss Ghadan (03:05)
نشيد : الآن الآن وليس غداً


HERE
Fayrouz فيروز – Reminiscing With Fairuz والذكريات


01.Aazzaroura
02.Ya Ghozayel
03.Nahna Wal Amar
04.Ya Helou Ya Amar
05.Ya Mayila 'Al Ghousoun
06.Al Bint Al Chalabiya
07.Nehna Widyab El Ghabat
08.Ila Raiya
09.Azzaynou Ezzainou
10.Ya Rabi
11.Kaif Halak Ya Jar
12.Ya Henayena
13.Halalaya
14.Taht El Ariche
15.Debna Ouma Tebna
16.Al Yadi El Yadi
Fayrouz فيروز – El-Quds-Fil-Bal القدس في البال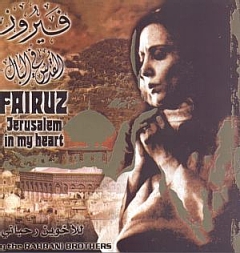 1. Sanarji'ou Yawman
2. Ya Rbou' Bladi
3. Zahrat Al-Mada'en
4. Al-Quds Al-Atiqa
5. Sayfun Fal Yushhar
6. Ghaba Naharun Akhar
7. Yafa
8. Beesan
9. Sanarji'ou Yawman
10. Sayfun Fal Yushhar
Fayrouz فيروز –
Al mahatta - The Station


Disk 1

01. First Overture 2'05"
02. Khalass El Zareh 2'53"
03. Doukhoul Warde 58"
04. Layali El Shimal 3'19"
05. Warde And Saado 2'02"
06. Bsadek Walla Chou 1'42"
07. Wayniyi Wayniyi 1'50"
08. Warde And Rayes 2'34"
09. Mart Saadi and Harami 2'31"
10. Ya Mdaber 2'07"
11. Warde and Shawish 1'33"
12. Ya Dara Douri 4'31"
13. Harami And Mart Saado 1'16"
14. Warde and Harami 58"
15. Kalou Di Mahatta 6'30"
16. Tahdir El Mandal 5'41"
17. Eid El Mahatta 1'05"
18. Laylet El Mahatta 2'21"
19. Rakset Zeina 1'59"
20. Dabket El Mahatta 2'44"
21. Saalouni El Nass 3'38"
22. Kan Ezzaman 2'04"

Disk 2

01. Second Overture 2'12"
02. Essa Khamse Wounos 2'49"
03. Ya Rais Elbaladie 3'15"
04. Rejeet El Shatwiyi 3'07"
05. Warde And Harami 1'50"
06. Ya Warde 4'
07. Warde and Sikran 2'11"
08. Rakset Eletfaiye 3'26"
09. Saado and Harami 2'23"
10. Tajer El Ghanam 5'26"
11. Rakset El Badou 3'12"
12. Harami and Shehad 4'28"
13. Katl El Mahatta 3'46"
14. Imani satee 2'55"
15. Moudir El Police 2'29"
16. Wousoul El Train 2'23"
HERE
Fairuz فيروز - Return of the Soldiers عودة العسكر


01 SHALHAT AL HARIR
02 ALLAH MEHAYI ASKARNA
03 TURKAT ESSAWAHEL
04 HELY ARREH
05 BTETLOJ EDDENE
06 MOUAFA YA ASKAR LOUBNAN
07 BERJAK EID
08 HELOU YA SAHARNA
09 KHEDNI
10 BAADAK ALA BALI
11 SA'AL EL HELOU
12 LOUBANAN EL AKHDAR - RETURN OF THE SOLDIERS
Fairuz فيروز - Loulou لولو


Disk 1

01. First Introduction 2'13"
02. Addoukhoul 1'37"
03. Ahla Bi Loulou 2'33"
04. Insa? Keif? 2'25"
05. Fi Bayt El Kadi 4'14"
06. Fi Kahwa al Mafreq 2'42"
07. Loulou Wel Bouaji 2'35"
08. El Kadi We Loulou 2'58"
09. El Doctor We Loulou 2'25"
10. Santa Lucia 1'09"
11. Kanou Ya Habibi 4'33"
12. Hak El Chab 2'50"
13. El Boyaji We Martou 1'08"
14. Boya Boya 2'59"
15. Doukhoul Kabadayat 2'54"
16. El Boyaji we Nayef 1'19"
17. Fares We Loulou 2'15"
18. Min Ezz Elnawm 4'27"
19. Loulou We Nayef 3'
20. Allah Ma'ak 3'22"

Disk 2

01. Second Introduction 1'51"
02. Raji'in Ya Hawa 5'23"
03. Hayyi El Marajel 3'49"
04. Sayf El Marajel 1'34"
05. Mawal Dar El Layali 1'04"
06. Dabket Kabadayat 3'01"
07. Ikhtifa Al Boyaji 2'15"
08. Chou Bikon Ya Ammi 2'11"
09. Nattarouna Ktir 3'45"
10. Loulou Wel Doctor 1'25"
11. Elkadi, El Moufawad 48"
12. Ya Biya'a Khidini 2'56"
13. Mart Kadi We Moufawad 1'59"
14. Yalla Ya Ikhwan 1'35"
15. Al Hob El Hob 2'15"
16. Kif Lkitilli Halsofra 1'57"
17. Kabadayat We Moufawad 1'39"
18. Music 1'48"
19. E Viva 2'24"
20. Rakset Samia 1'47"
21. Kan Enna Tahoon 2'49"
22. Finale 3'09"



HERE Part 1
HERE Part 2
Fairuz فيروز - The Very Best نخبة من اجمل الاغاني
01. Habbeytak Bessayf
02. Addaysh Kan Fi Nass
03. Zahrat Al Mada'en
04. Ya Moukhtar El Makhatir
05. Shady
06. Kan El Zaman
07. El Kods Alatika
08. Shayef El Bahr Shou Kbir
09. Ya Ana Ya Ana
10. A'atini Naya
11. Sanarja'ou Yaoumann
12. Al Bint El Chalabiyeh
13. Ya Tayr
14. Dabket Loubnan
HERE
Fairuz فيروز -Wahdon
01.Habaitak Ta Naseet Al Naoum
02.Baatliak
03.Ana Indi Haneen
04.Al Bostah
05.Wahdon
HERE
Fairuz فيروز - Ana Ou Sehrani انا وسهرانة
01. Ya Qamar Ala Daretna
02. Ya Hala Ya Habibi
03. Ghali El Dahab
04. Gulnar
05. Ana Ou Senrani
06. Oummi Ya Malaki
07. Ya Habibi Koullama
08. Ghibi Ou La Tghibi
09. Al Ouda El Mensiyyi
10. Shal
11. Yara
12. Yaoum Ou Yaoumain
13. Betchouf Boukra
14. Reddi Mandilik Reddi
15. Ana La Habibi
HERE
Fairuz فيروز - At The Royal Festival Hall London في الرويال فستفال هول
01 INTRODUCTION 83
02 SHATTY YA DENEY
03 ADDEYSH KAN NASS
04 SANARIJOU YAOUMANN
05 NASSAM AALAYNA LHAWA
06 HEYLA YA WASSE
07 INSTRUMENTAL TADMOR
08 WAHDONN
09 NEHNA OUEL AMAR JIRANE
10 KHODNI
11 BEOULOU Z'GHAYYAR BALADI
12 TRAB ANTOURA
13 ZOUROUNI
Fairuz فيروز - Lebanon forever لبنان الحقيقي جاي
01 HKILI HKILI AN BALADI
02 REJEET AL ASSFOURA
03 WATANI
04 FL AHWA AL MAFRAK
05 ZENOBIA
06 ASSIDAT LOUBNAN
07 YA JABAL ESHEIKH
08 RUDANI ELA BILADI
09 BEDNA N'KAMMEL

Fairuz فيروز - Safirat Al 'Arab




01 Qassedat Al-Imarat
02 Min That Hal Arze
03 Kan Yama Kan
04 Ouhibbou Dimashq
05 Bilghar Kullilti
06 Jordan
07 Al-Kuwait

HERE





Fairuz فيروز - Chante Philemon Wehbe فيروز تغني فيلمون وهبي vol.1
1. Jaybeli Salam 4'46"
2. Ya Rayt Mennon 7'29"
3. Lamma Al Bab 6'44"
4. Ana Khaoufi 5'24"
5. Attahuneh 4'07"
6. Katabna Ou Ma Katabna 5'07"
7. Ya Mersal El Marassil 3'47"
8. Ya Dara Douri Fina 4'35"
9. Min Ezz Ennoum B'tesrekni 4'32"
10. Sayyef Ya Sayf 3'36"
11. Ya Karm El Alaly 2'19"
12. Tiri Ya Tayara. 3'28"
Fairuz فيروز - Bi Layl We Shiti (
Chante Philemon Wehbe vol 2)
بليل وشتي

1. LAMA AAL BAB لما عالباب
2. ZAHRET AL JANOUB زهرة الجنوب
3. BILAYL WOU CHITI بليل وشتي
4. ASAMINA اسامينا
HERE
Fairuz فيروز - SAFARBARLEK & BINT EL-HARASS أغاني فلم بنت الحارس
و
سفر برلك
YA TAYR
MAOUAL ATABA
DANS L'ATTENTE DU TRAIN
TELLY YA HELWI
YA AHL DEEAR
NOSTALGIE
EMCHY
LA FUITE ET LE MASSACRE
ALLAMOUNI
LA CARAVANE
LA DANCE DU CAFE
MAOUAL YA MA'CHAR ENNASS
L'ENTE AU SERAIL
ENABIYA
DABKE ADDOUARA
NASSAM ALAYNA EL-HAWA
ITA'I YA 'ARUSA
YALLA TENAM RIMA
TIR YA TAYARA
YAAKEBAL HAGEBAYNE
TIK TIK TIK
AMARA YA AMARA
YA GABAL ILLI B'ID
HABIBI BADDOUL AMAR
DEHEK ELLOUZ
YEDOUR EDDOURI
HERE
Fairuz فيروز - Kifak Inta كيفك انت


1. Oughniat Al Wadaa
2. Fikon Tinsoo
3. Mukadima 87
4. Ya Laili Laili
5. Iaada
6. Prova (Kifak Inta)
7. Kifak Inta
8. Dhia'anou
9. Fi Shi Am'bisseer
10. Indi Thika Feek
11. Mush Kissa Hai
HERE
Fairuz فيروز - Shat Iskenderia شط اسكندرية
01 Shat Iskandria
02 Ams Intahena
03 Fatahun Alai
04 Rejeat Fi Al Massa
05 Min Rawabina Al Amar
06 Saied Al Hawa
07 Yabki Wa Yadhak
08 Ya Zairi Fi Al Dhwha
09 Akoulu Litiflati
10 Kal Ya Lana
11 Najmat Al Kutob
HERE
Fairuz فيروز - Mish Kayen Hayk Tkoun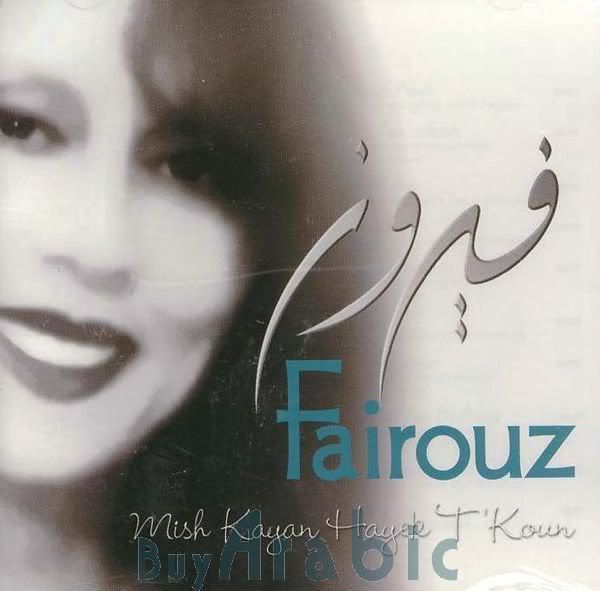 1. Sallimli Aleyh
2. Ja'at Mo'adhibati
3. Daq Khulqi
4. Ishta'tillak
5. Wa Li Fouad
6. Tidhkeer
7. Law Ta'lameen
8. Uhibbu Min Al-Asma'
9. Mish Kayen Hayk Tkoun
10. Wa Kamh
Fayrouz فيروز – Ya Rayeh يارايح
01. Ya Rayeh
02. Al Bouab
03. Warakou Al Assfar
04. Fayek Ya Hawa
05. Leylie Bterjaa Ya Leyl
06. Tele'li Al Biki
07. Bi Karm El Loulou
08. Ala Jisr El Laouzieh
HERE
Fairuz فيروز - Qassa'id قصائد

01 MOURRA BI
02 SAILINI
03 NASSAMAT
04 YA SHAM AADA'L SAYF
05 QARA'TOU MAJDAKI
06 YA ROUDA
07 SHAM YA ZAL SAYF
08 KHODNI B'AAYNAYK
HERE
Fayrouz فيروز – Ma'akoum معكم
01.Beirut Hal Zarafat
02.Ya Mina El Habayeb
03.Amman
04. Al Kuwait
05.Hamaltu Beirut
06. Misr Adat
07.Baghdad Wal Chouarra
Fairuz فيروز - El Qods El Aatika القدس العتيقة
01 - Bhebbak Ya Haoua
02 - Rajîine Ya Haoua
03 - Eenabya
04 - El Qods El Aatika
05 - El Zahrata Mada'ine
06 - Sanarjiôou Yaoumane
07 - Un Chadi w
08 - Ehkili Aan Baladi.
09 - Teb'a Bladna
10 - Roddani Ila Biladi
11 - El Lobnane Akhdhar.
12 - Li Beirut
13 - Ouatani.
14 - El Baâdou Habayeb
HERE
Fairuz فيروز - Yas'ed Sabahak يسعد صباحك
01 Yas'ed Sabahak
02 Arabiyit Lamia
03 La Tinsi Ana Huna
04 Zar Biskoun El-Leyl
05 Ihkeeli
06 Ya Dar Bitlouh
07 Leyl El-Eid
08 Marhaba Marhaba
09 Un Hobbak Ghannayna
10 Baytna Fi El-Jazeera
11Qussat El-Ward
Fairuz فيروز - Ma'rifti Feek


Khaleek Bil-Beyt
Introduction 84
Al-Oula
Rah Nib'a Sawa
Ma'rifti Feek
I'ada 83
Li-Beirut
Ayntoura
Ma Idirt Nseet
Oudak Ranan
Al-Thaniya



Fairuz فيروز - Fairuz Sings Ziad Rahbani
Salimleh alayh
Oudak Rannan
Al Bostah
Kifak Inta
Maarifti Feek
Oghiniat Al Wadaa
Aloula
Dak Khilkeh
Indi Thika Feek
Mush Kissa Hai
Mish Kayen Hayek Tkoum
Baatilak
Fayrouz فيروز –
Wala Kif

[01].Sabah Wu Masa (Morning and Evening)
[02].Shu Bkhaf (Manha de de Carnaval) (How I Fear)
[03].Sobhil Jiz (My Comrade)
[04].Tinzakar Ma Tinaad (May History Not Repeat Itself!)
[05].Ya Mariamu (Saint Mary)
[06].Ana Fezaani (I Feel So Afraid)
[07].Bizakker Bil Kharif (Les Feuilles Mortes) (He Reminds Me of Autumn)
[08].Wallah (La Bamba) (Never)
[09].Inshallah Ma Bu Shi [I Hope He Is Doing Fine]
[10].Bizakker Bil Kharif [Take 2]
Fairuz فيروز – Al Mahabba المحبة
01. Ya Nassima Douja
02. Aatini Nay
03. La Tass'alouni
04. Kad Ataka Ya'tazirou
05. Ya Aakidal Hajibayni
06. Sakana Elleil
07. Rudani Ela Biladi
08. Assidat Loubnan
09. Almahaba
HERE

Fairuz فيروز – To Assy إلى عاصي
Jisr El-Amar (Music) (موسيقى جسر القمر (03:15
Nihna Wil Amar (نحنا والقمر جيران (03:27
Ana La Habibi (أنا لحبيبي (04:35
Yara (يارا (02:41
Bhibbak Ma Ba'rif (بحبك مابعرف (03:17
Ya Mhairitil Alali (يامهيرة العلالي (03:47
Ala Mahlak (على مهلك (04:01
Buqtuflak Bass (بقطفلك بس (02:55
Shalik Rafraf (شالك رفرف (01:57
Shatti Ya Dinyi (شتي يادنية (03:13
Ya Tayr / Ya Hajal (يا طير \يا حجل صنين (05:06
Hela Ya Wase' (هيلا ياواسع (03:26
Nassam Alayna El-Hawa (نسم علينا الهوى (04:06
Bi'dou El-Habayib (يا جبل البعيد \ بعدو الحبايب (04:17
Taht El-Ariche (تحت العريشة سوا (05:44
Habbaytek Wu Shouq In'al (حبيتك والشوق انقال (03:24
Ya Horrieyh (ياحرية (02:43
Jisr El-Amar 2 (music) (موسيقى جسر القمر 2 (04:04
HERE

Fayrouz فيروز – Chillout Classics (By Ziad Rahbani)


1 – Sabah Wu Masa (04:37)
صباح ومسى
2 – Ana Fezaani (04:03)
أنا فزعانة
3 – Sallimleh Alayh (05:50)
سلملي عليه
4 – Dak Khilqeh (04:04)
ضاق خلقي
5 – Mish Kayen Hayk T'koun (03:24)
مش كاين هيك تكون
6 – Oghneyat Al Wadaa (04:04)
أغنية الوداع
7 – Kifak Inta (03:31)
كيفك انت
8 – Fi Shi Am Biseer (02:47)
في شي عم بيصير
9 – Andi Thika Feek (04:25)
عندي ثقة فيك
10 – Khalleek Bil Bayet (04:13)
خليك بالبيت
11 – Al Oula (04:38)
الأولى
12 – M'arefti Feek (02:11)
معرفتي فيك
13 – Ma Qdert Nsit (04:29)
ما قدرت نسيت
14 – Al Thanieh (02:25)
الثانية
15 – Al Bosta (08:55)
البوسطة
16 – Wahdon (06:14)
وحدون
Fairuz فيروز - Fairuziat vol.1 فيروزيات

01. Aateny Al-Nay Wa Ghani - Kadesh Kan Fi Nass - Shatt Eskenderia
02. Baktob Esmak Ya Habibi - Ya Um Soliman - Khaleek BelBayt
03. Shayef El-Baher Sho Kbir - Regeat El-Shetwya
04. Ya Ana Ya Ana/Bainy We Baynak Ya Hal Liel - Ya Sneen Elly Rah Tergaely
05. Sakan El-Lyle - Mays El-Reem
06. Rah Nebka Sawa - El-Bosta - Tayer El-Werwar - Habaytak Bel Sayef
Fairuz فيروز - Fairuziat vol. 2 فيروزيات


01. Jerusalem In My Heart
02. Kifak Inta
03. Winon
04. From El Mahatta
05. Shady
06. El Helwa De
07. From Kifak Inta
08. Fi Shee Am Besser
09. Kena Bentlaka Fi El Ashia
10. Balbac
HERE
Fairuz فيروز - Fairuziat vol.3 فيروزيات


01. Shaif El Baher
02. Tair El Werwar
03. Shat Alexandria
04. Ya Mersal El Maraseel
05. Men Az El Nawm
06. Ya Marek Al Tawhien
07. Bahebak Ma Baraf
08. Ya Nator El Kamaia
09. Tek Tek Ya Om Soliman
10. Them Of Love 1
11. Regat El Shatwia
12. La Tejey El Yoom
13. Kamara Ya Kamara
14. Nasem Alina El Howa
15. Almoneey
16. Baktflak Bas
17. Tery Ya Tiraa
18. Ragaieen
HERE
Fairuz فيروز - Fairuziat vol. 4 فيروزيات


01. Akher Aiam El Saifia
02. Kanoo Ya Habibi
03. Hana El Sakran
04. Bakteb Esmak Ya Habibi
05. Sahar El Laialey
06. Nahna We Alkamar Jeran
07. Habibiti
08. Hopeless Love
09. Gesaer El Kamar
10. Dami Wa Dommoie Wa Ebtsamtey
11. Natrona Kateer
12. Hebo Badon
13. Yara
HERE
Fayrouz فيروز - Lady And The Legend السيده فيروز
01.Ana Fezaani
02.Mush Kissa Hai
03.Yabki Wa Yadhak
04.Fi Shi Am'bisseer
05.Dhia'anou
06.Shat Iskandaria
07.Ams Intahena
08.Kal Ya Baita Lana
09.Al Lail Anasheed
10.Prova Kifak Inta
11.Kifak Inta
12.Wahdon
13.La Inta Habibi
14.Nassam Alayna
15.Yes'ed Sabahak
Fayrouz فيروز – Houmoum El Hob هموم الحب
01. Houmum Al Hob
02.Laeb El-Risha.
03.Laydom Eghtrabi
04.Asfour El Shagan.
05.Morawej El Sondos
06.Shames El Atfal.
07.Am Yelaabo El Welad.
08.Bedi Khaberkon.
09.Omen
10.Lemin El Hedya
11.Eyam El Eid
HERE
Fayrouz فيروز – Beyrut بيروت
Ishar
Khaifakolil
Ya Garatal Wadi
Sakana Al Leyel
Habbeytak
Dhakhilik Ya Emmi
Dak Elhawa
Fayek Walla Nassi
Beirut Hal Zarafat (Live)
Hamaltu Beirut (Live)
Min Taht Hal Arzeh (Live)
HERE
Fayrouz فيروز – Anashid اناشـيد
1. Allayl Anashid Wel 'Omen Maoa'eed 12'27"
2. Ardouna .. Anshodat Elzaman 13'57"
3. 'ain Elrouman 13'15"
4. Almalha Alakhder 10'48"
HERE
Fayrouz فيروز – Live At Beiteddine 2000
01. Beiteddine Opening
02. La Inta Habibi
03. Endi Sika Feek
04. Kifak Inta
05. Prelude (Mais Erim)
06. 'shtaktillak
07. Shu Hal Iam
08. The National Lebanese Resistance
09. 'bititlojil Dini
10. Tinzakar Ma Tinaad
11. Kbiril Mazha Hay
12. Ahu Dalli Sar"
13. Ya Mahla Layalil Hawa
14. Habaytak Ta Nsit Elnaum
15. Talfan Ayyash
16. Sabah Wu Masa
17. Nassam Alayna
HERE

Fayrouz فيروز – Eh Fi Amal إيه في أمل
Al Ayel (قال قايل (04:44
Ossa Zghiri Ktir (قصة زغيري كتير (04:40
Kel Mal Haki (كل ما الحكي (03:26
Kbiri Mazha Hay (كبيرة المزحة هاي (06:02
Allah Kbir (الله كبير (04:24
Al Ardou Lakoum (الأرض لكم (02:12
Ma Chawart Hali (ماشاورت حالي (03:07
Diar Bakr (دياربكر (03:26
El Bint El Chalabiya (البنت الشلبية (03:05
Eh Fi Amal (إيه في أمل (04:19
Bektob Asamihon (بكتب أساميهن (02:47
Tel El Zaatar – MEA (تل الزعتر (04:20
HERE
Fairuz فيروز - The Music Of Fairuz Operettas
01
Loulou – First Introduction
02
Loulou – Second Introduction
03
Dabket Abadayat
04
Raksat Samia
05
Mais El Reem – First Introduction
06
Mais El Reem – Second Introduction
07
La Gardinne Des Cles – First Introduction
08
La Gardinne Des Cles – Second Introduction
09
Ash' Shakhs – Ouverture
10
Poeme D'Amour – First Ouverture
11
Poeme D'Amour – Second Ouverture
12
Al Mahatta – First Ouverture
13
Al Mahatta – Second Ouverture
14
Raksat "Souss"
15
Raksat El Mejwez (Dabke)
16
Ba'albeck Festivel – Ouverture
17
Ya 'Eesh Ya' Eesh – Ouverture
18
Jibal As-Sawan – Ouverture
19
The Days Of Fakhr Eddeen – Ouverture
20
Hala Wel Malek – Ouverture
21
The Night and The Lantern – Ouverture
22
Al Baalbakiya – Ouverture
23
Safar Barlek – Ouverture
HERE